be a good communicator - business email solutions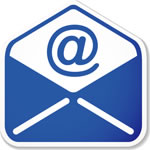 Email is a crucial communication medium for almost all businesses. Often we come across clients who know what they want to get out of their email, but they don't understand the intricacies of the various business email technologies available. Whether your need is the ability to send bulk email, offer webmail to your employees, centralize your email storage, provide an anti-spam solution, or shared calendars and other resources, we can help guide you towards the right solution.
so many choices, what's the difference?
These are some of the primary email systems your business may be (or may wish to be) utilizing:
3rd party email - for instance, your business email addresses look something like bob@yahoo.com. This is the most basic level of email and is less-than-ideal as it may cause your customers to wonder why you don't have your own domain.
POP email - in this case, you've purchase a domain (such as mycompany.com) and your email addresses now look like bob@mycompany.com. POP email is easy and cheap to set up, and it will instill more confidence in your customers as well as give your business more of a web presence (especially since you are now that much closer to developing a website for your business).
Gmail/Google Apps - Gmail and Google Apps provides a very good, low-cost middle-ground solution between POP accounts and Microsoft Exchange accounts. There are a few areas where Google Apps isn't as robust as a Microsoft Exchange (or hosted Exchange) solution, but we can help you figure out whether these limitations affect the way you operate.
Microsoft Exchange email - this also works off of your domain name, and thus your email addresses (like POP email) look like bob@mydomain.com. However, Exchange provides much more than POP email, such as a robust webmail interface that's synched with your Outlook, better security, delegation (i.e., give others in your company the ability to view your email or add appointments to your calendar from their email), security, etc. The list of benefits is considerable, but the cost is significantly more than POP email. If you want something in between, consider hosted Exchange...
Hosted Exchange email - this is pretty much the best of both worlds for smaller businesses. Here you get the benefits of Exchange without the cost (though still a bit more expensive than a POP email solution) or the management of the mail server. For larger businesses this isn't really practical as the cost for many accounts would get too high and couldn't be justified versus the cost of hosting your own Exchange server.
we'll keep you in synch with your world
There are different ways to synch with your handheld device (Palm Pilot, cell phone, etc.) such as attaching your device to your computer with a USB cable, or taking advantage of the push technology available with an Exchange Server email solution. The higher cost of an Exchange-based solution will bring nicer results - such as wireless synch (i.e., your calendar, email, contacts, etc. synch to your phone whenever, wherever you are), but you'll need to find the balance between what features you need and what your budget allows for. The good news is, we can help.