computer repair, custom built computers, and used computers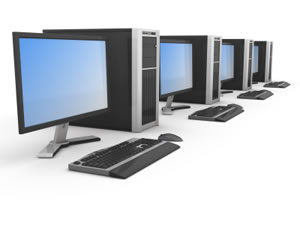 Although we're not a reseller of hardware, we can help you maintain, fix and procure hardware from a major vendor, such as Dell, HP, Sony and so on. In addition, when you need something in a pinch, there's a good chance we'll have it on us since we carry many common items on us during service calls. If not, we can always run out to a local shop and get what you need so that we can get you back up and running as quickly as possible.
custom built computers by halcyon
Another option that many of our customers prefer is a custom built system by Halcyon. We can build systems significantly cheaper than a major vendor, and get it to you the within 1 business day. Our systems are fast, reliable, use only the best parts, and we warranty the components.
used computer systems and computer hardware components
Occasionally we get some good systems from customers that are worthy for resale. In some cases we clean up the hardware, in other cases we format the hard drive and sell it as is. In both cases we test everything that we resell, and if it is a good system with a minor issue, we'll let you know up front and adjust the price accordingly.
currently available systems

Used Web Servers

| ID | Rack Height | CPU Family | CPU Speed (ghz) | Number of CPU's | RAM (mb) | HDD 1 Size (gb) | HDD 2 Size (gb) | HDD 3 Size (gb) | HDD 4 Size (gb) | CD-Rom | Floppy | Price |
| --- | --- | --- | --- | --- | --- | --- | --- | --- | --- | --- | --- | --- |
| 190 | 2U | Intel Xeon | 2.66 | 1 | 4096 | 72 | 72 | 72 | 72 | 1 | 1 | $175 |
| 181 | 2U | Intel PIV | 3.06 | 1 | 2048 | 300 | 72 | 72 | 0 | 1 | 1 | $160 |
| 61 | 2U | Intel Xeon | 2.66 | 2 | 4096 | 120 | 120 | 0 | 0 | 1 | 1 | $155 |
| 78 | 2U | Intel Xeon | 3.06 | 2 | 2048 | 36 | 36 | 36 | 0 | 1 | 1 | $145 |
| 191 | 2U | Intel Xeon | 3.06 | 1 | 2048 | 36 | 36 | 36 | 0 | 1 | 1 | $145 |
| 63 | 2U | Intel Xeon | 2.66 | 1 | 2048 | 72 | 72 | 0 | 0 | 1 | 1 | $140 |
| 196 | 2U | Intel Xeon | 3.06 | 1 | 2048 | 36 | 36 | 0 | 0 | 1 | 1 | $140 |
| 135 | 1U | Intel PIV | 3.06 | 1 | 1024 | 300 | 300 | 0 | 0 | 0 | 0 | $140 |
| 100 | 2U | Intel Xeon | 2.66 | 1 | 2048 | 36 | 36 | 36 | 0 | 1 | 1 | $135 |
| 102 | 2U | Intel Xeon | 2.40 | 2 | 2048 | 36 | 36 | 72 | 0 | 1 | 1 | $135 |
| 74 | 2U | Intel Xeon | 2.40 | 2 | 2048 | 36 | 36 | 72 | 0 | 1 | 0 | $135 |
| 76 | 2U | Intel Xeon | 2.40 | 2 | 4096 | 0 | 0 | 0 | 0 | 1 | 1 | $130 |
| 178 | 2U | Intel Xeon | 2.40 | 2 | 2048 | 36 | 72 | 0 | 0 | 1 | 0 | $130 |
| 27 | 2U | Intel Xeon | 2.40 | 2 | 2048 | 36 | 36 | 36 | 0 | 1 | 0 | $130 |
| 169 | 2U | Intel Xeon | 2.40 | 1 | 2048 | 36 | 36 | 36 | 0 | 1 | 0 | $130 |
| 71 | 2U | Intel Xeon | 2.40 | 2 | 4096 | 0 | 0 | 0 | 0 | 1 | 0 | $130 |
| 97 | 2U | Intel Xeon | 2.66 | 2 | 2048 | 120 | 120 | 0 | 0 | 1 | 0 | $125 |
| 75 | 2U | Intel Xeon | 2.40 | 1 | 2048 | 36 | 36 | 0 | 0 | 1 | 0 | $120 |
| 56 | 2U | Intel Xeon | 2.40 | 2 | 2048 | 36 | 36 | 0 | 0 | 1 | 0 | $120 |