the best network consulting experience you'll have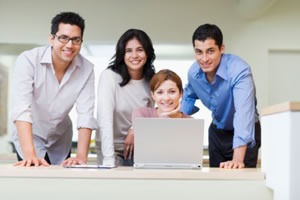 We offer outstanding customer service levels. We're professional, intelligent, great at what we do and love to bring an energetic personality to IT. We know so many really cool IT guys that it's a shame that this whole "geek" thing is associated with computer support engineers. We hire the best people we can find, placing a lot of importance on technical ability and affability. If you want to see what other reasons make us a great company, read on...
1. We love what we do
To be successful at anything, you must first be passionate about it. At Halcyon we take great pleasure from helping people, and we love technology. These traits are the main inspiration that drives Halcyon Networks.
2. We're personable and technologically savvy
This is a claim a lot of tech firms make these days - and we're not claiming to be the only ones who can deliver on this promise. That said, we know this combination is one of our strongest points and that our existing customers see this as a real value-add.
3. We get to know your network
One size does not fit all and it's important that we get to know your business and your network. Every network has its own idiosyncrasies; we follow standards, but we don't ram a canned solution down your throat. We'll make sure our solution is the proper balance of standards and customization.
4. We never up-sell
It doesn't matter what the industry is, when you've found a service person who has expert knowledge and never tries to sell you more than you need, you stick with that vendor. When we make a suggestion for your to spend money on technology, it's because we think there's a real benefit there for you, and we'll make sure you understand what it is.
5. Not only do we not up-sell, we try to save you money, even at our own expense
Trust is crucial - our customers come to us because technology is our forte, not theirs. You trust us to know your technology needs keep your best interests in mind. We've devised solutions for some customers that have all but eliminated their need for our services. Rather than pick up some extra billing, we've made that customer a customer for life - and a successful business must value that above all else. This isn't just talk - we've done this for multiple customers and you can read some examples on our featured projects page.
6. We base our solutions and recommendations on your business objectives
It's not enough to just fix what the customer asks you to fix. Sometimes our clients request something to be done, but because we're looking at the bigger picture and what they're really trying to achieve, we realize that it may be beneficial to them to do things a different way. We place a lot of importance on understanding the types of technologies that are important to your business and making sure you're aware of them.
7. Solving technical challenges is fun (for us)
Obstacles (both in IT, and in life) are not setbacks, but opportunities to figure out solutions that help you grow. It might not be everyone's idea of a good time, but throw us a curve and ask for a really unique solution, and we look forward to developing one that works (and seeing our customer's excitement when they see it in action). Managing networks and making them run smoothly is what we do - a little crazy request here and there adds some spice.
8. When you have an emergency, we drop everything
We all have an IT crisis sooner or later - you'll take comfort in knowing that when you call us and tell us know that "something bad has happened" we're on it right away. In one case when a customer's T1 line went down, we called the T1 vendor while in the car on the way to the customer site so that we'd burn through the hold time in the car, not at their site.
9. We have high expectations of our employees
Each of our employees is carefully screened with the goal that the guiding principles of Halcyon Networks are principles that are truly important to them. We want you to know three things when you deal with any member of Halcyon Networks - that we're there when you need us, that we know our technology, and that we like our customers.
10. We don't read from scripts
When we troubleshoot your problem, you'll never catch us mindlessly asking you to go through some routine steps with disregard to what you've already done prior to contacting us. You'll always talk to a live engineer who dynamically thinks about your problem and finds a solution efficiently, not through the brute-force of a troubleshooting script.
11. We've been helping bay area businesses since 2001
We're not fly-by-night - we're not just doing this because we're out of work or because we figure that building computers in our bedroom should translate to building networks for businesses. We're professionals with the degrees, training and experience to deliver amazing service and solutions.
Give us a call, you won't be sorry.